African Pastors' Conferences exists to glorify God through Jesus Christ in enabling Pastors to lead Christ-exalting Biblical churches as Christ-like servant leaders through the faithful ministry of God's word in preaching and leading Bible-studies.
APC provides training for Pastors in the form of one to two day conferences. Most of these Pastors are unable to attend seminary or undergo any formal training owing to their being engaged in full-time employment in addition to their pastoring duties. It is estimated that there circa 2 million pastors on the African continent, but less than 10% have any form of sound formal training.
The primary speakers at APCs are, themselves, African Pastors, often from Zambia and Kenya. This is to ensure that the delegates understand that what APC is teaching is the Christian understanding of the Bible, not just a Western understanding.
---
What we believe:
APC holds to the 1689 (London) Baptist Confession of Faith with Spurgeon's Catechism as a companion teaching document, as a true interpretation of its religious convictions based upon the Scriptures. However it does not regard that Confession or Catechism as complete or infallible nor does APC by holding to the Confession or Catechism intend to add anything to or subtract anything from the revealed word of God in the Scriptures.
---
Our history:
Though often heralded around the world as a great centre of Christianity, sub-Saharan Africa is overrun with churches preaching a mix of Prosperity Gospel and Traditional African Religion. Such false teaching prompted Pastors Erroll Hulse and Irving Steggles (both with the Lord) to meet in 2005 about the possibility of training conferences for African Pastors.
African Pastors' Conferences was borne out of a great desire to see churches in Africa undergo reformation, to become more Biblical in their teaching and practice. The initial run of APCs occurred in January of 2006. For the first two years, APC was a January-only phenomenon. In subsequent years, APC continued to add conferences, eventually producing conferences throughout the year. This growth resulted in the necessity of hiring a full-time Conference Manager to coordinate day-to-day operations. APC now conducts around 60 conferences in at least fourteen different African countries.
---
Where are we based?
Our office is based at the premises of the Afrikaanse Baptiste Kerk, 85 Commissioner Street, Kempton Park, 1620.
---
Directors and management:
John Divito (USA) - Chairman
Thomas Winn (USA) - Treasurer
Conrad Mbewe (Zambia) - Secretary
Isaac Makashinyi (Zambia) – Director
Murungi Igweta (Kenya) – Director
Oliver Allmand-Smith (UK) – Director
Joshua Bolaji (RSA) - Director
---
Conferences:
A map of the continent showing the countries we visit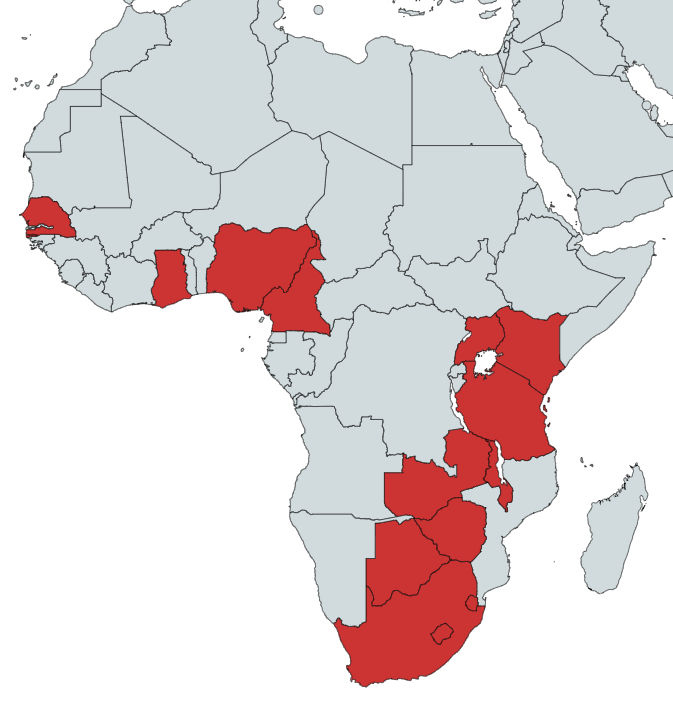 Countries we currently visit: South Africa, eSwatini (Swaziland), Lesotho, Zimbabwe, Botswana, Zambia, Malawi, Tanzania, Uganda, Kenya, Cameroon, Nigeria, Ghana, and Senegal.
---
Our Schedule:
To see our scheduled conferences and locations, please click below: